When I started cruising, I made loads of mistakes. And it saddens me that when I go cruising today, I meet so many first-time cruisers still making those very same mistakes I did. That's why I've pulled together these seven things that anyone thinking of going on their first cruise needs to know to have a fantastic very first cruise. So welcome aboard. I'm Gary Bembridge and its my goal to make it fun and easy to discover, plan and enjoy unforgettable cruise vacations.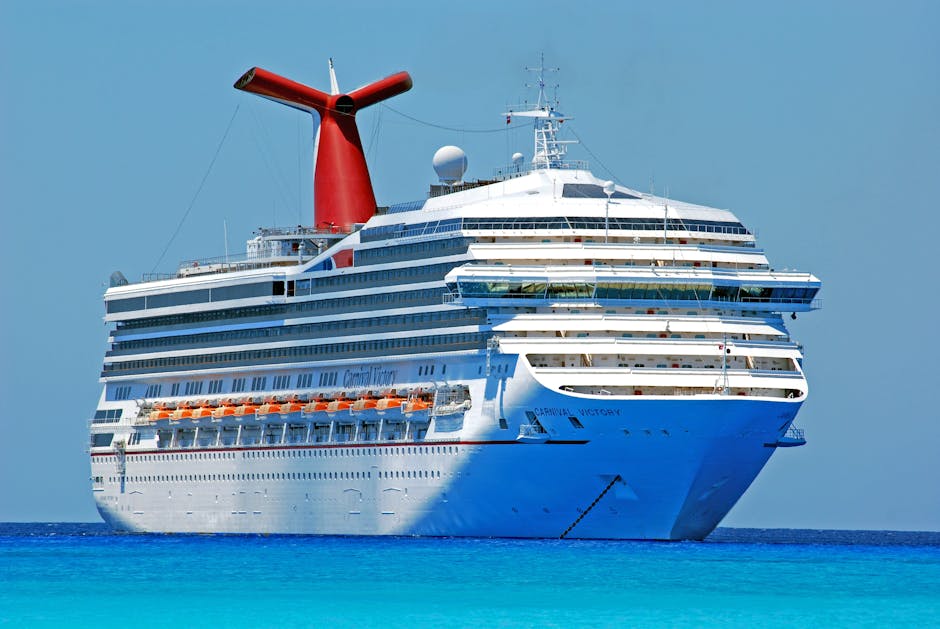 What is the best first cruise to go on? I made the mistake of charging off on a first cruise without thinking about the right place to go first. Luckily, I stumbled into going on one that was right. Unlike people I met on my next cruise on their first cruise, a Transatlantic Crossing on the QE2, where they realized the first day into a 7-day all sea day trip that they found them boring and tedious. From my experience and talking to happy first-time cruisers, I recommend all first timers stick to one of the three most popular cruising regions in the world: the Caribbean, the Mediterranean and Alaska.
They are popular for a reason. Not only do they call on great places, but these regions and ports are well-proven and geared up for cruising and the needs of cruise passengers.
There will also be a wide range of excursions that they've found over time are what cruisers want to do and enjoy. And, because these regions are so popular, all the cruise lines are there which means you will have lots of choices, which, as I will explain next, is very important. Choosing the right cruise line is critical.
Get on the right cruise line and you'll love it, get on the wrong cruise line and you'll hate your first cruise. My first cruise was on P&O Cruises, a line I found too British and was like staying at home for a vacation. I wanted to meet more diverse nationalities and experience something more exotic. I've been on many cruises where people are miserable as they are on lines that are just wrong for them too. For example, a family that loves to party but booked onto Cunard on a trip out of Sydney I was on, which is very formal and heavy on enrichment talks.
Or a couple on their first cruise, who didn't want to be with families and children but had booked on a Royal Caribbean cruise, which is often packed full of families. It can be complicated, choosing the right cruise line, as there are so many cruise lines and each one is designed to cater for someone different.
Broadly speaking, there are four key categories of cruise lines. The biggest category, in terms of passengers carried, are the mass cruise lines which are resort like. These are cruise lines like Carnival, Royal Caribbean, Norwegian Cruise line and MSC Cruises.
These tend to be very large ships, which are getting larger and larger. Expect many ships in this category to be mega-ships carrying over 3,500 passengers. They have a wide range of cabins, ranging from very inexpensive inside cabins, which could cost under $100 a night out of peak season, through to massive and costly suites costing $80,000 a week.
But importantly, they have lots of facilities and lots of choices. You will find many entertainment venues, big production shows and on some ships you'll find even go carts and ice-skating rinks.
You will find a myriad of different themed restaurants and bars. It's very resort like and are popular with families, young couples and people that love active, busy and high-energy resort-like vacations, so if that's something that appeals to you, these are the cruise lines you should gravitate to. The next category of cruise lines is what is generally known as premium cruise lines. These tend to be mid-sized to large ships, ranging from just under 2,000 to 3,400 passengers. It includes cruise lines like Princess, Holland America, Celebrity, Virgin Voyages, Disney Cruise Line and Cunard.
They also offer cabins ranging from inside to suites. They tend to have a more classical cruise experience, and don't usually have all the resort features.
They still have a wide choice of facilities like restaurants and bars, but much fewer. These lines are more sedate than the resort-like ships and entertainment and activities will be more geared to quizzes, talks, bingo, cooking displays, movies, smaller scale production shows but will still have pool parties and similar events. The next category, which is similar in cruise experience to the premium lines but just on smaller scale is the small cruise lines' category, which probably are more luxury than the premium lines.
These include lines like Oceania, Viking, Azamara, Saga Cruises and Windstar. They carry between 600 and 1,200 passengers. This is probably my favorite category of all. Because they are small they have even less choice. They have a traditional cruise experience, and many offer from inside to suites.
Then there is the ultra-luxury, or the six-star category. These are mostly all suite ships, often only with 600 guests. They have a lot of inclusions in their fares, have a very high passenger to crew ratio so very high service.
This includes lines like Seabourn, Silversea, Regent Seven Sea, the new Ritz Carlton yacht, Ponant and Hapag-Lloyd. So, as you can see, there is a lot of choice.
How do you choose which is right for you? Write a list of what's important to you on a vacation. So, for example, my partner likes big production shows, a big casino with lots of gaming options, and a big gym with lots of classes. You may want a relaxed dress code, adult only, ballroom dancing or late-night partying and so on. Draw up a list of the things that are important to you.
And then use that to find the cruise line that meets your list closest. If you're doing the Caribbean, Mediterranean or Alaska as I suggest, your chosen line is almost certainly going to be cruising there.
But you then have one more key decision to make. People said to me before my first cruise Don't worry about your cabin. You're not going to spend a lot of time in there, you're going to be out enjoying the ship.
I wish I had ignored that advice, as the cabin I had was above the fitness center exercise room and we were woken up early morning with the thumping bass noise of the classes, which then also reoccurred through the day and even in the early evenings. I learned on my first cruise that if you have a cabin that is noisy or in the wrong location it can ruin your trip. When it comes to booking a cruise, you will be given two options. Cruise lines will offer you a guaranteed fare, and this means that you choose a specific category (inside, ocean view, a balcony or a suite), but you don't get to choose a specific cabin. They will allocate it to you.
Or, you have another option where you get to choose your specific cabin.
Some cruise lines charge a slight premium for that, others don't. I always go with choosing a cabin fare, and there's a simple rule that you should follow. Choose a cabin which is surrounded by other cabins on all sides. So, the left, the right, above, below and opposite you.
This is going to mean that you're less likely to be near a noisy or busy venue or a high traffic area that's likely to cause disturbance. Other than making an error on choosing a cabin, there is another area that trips up many first-time cruisers. The other thing that I find people stumbling with, and I certainly made this mistake, is around budgeting.
On my first cruise I was shocked to find that I spent over half of what we had paid for the cruise once we were on board. There were so many extras and costs we had not thought about or budgeted properly for.
When it comes to cruising, don't focus only on the fare that you see advertised, focus on the concept of door-to-door. Many studies confirm what we found that that cruise passengers spend between 50% and 100% of the fare that they've paid once they get on board. Every single line has different inclusions and exclusions within their fare, and it keeps changing. Generally, the mass market lines have lots of exclusions. So of course, you'll have all your meals included and the basic entertainment included.
But you'll then find there will be lots of added things like gratuities, Wi-Fi, drinks, excursions and specialty dining. The premium and small ship lines tend to have many extra costs on board, although some of those are moving to more all-inclusive fares.
If you go ultra-luxury, you're going to find that many of those things are included. When you're looking at your cruise, don't just focus on the fare and go for the lowest fare, understand what you're going to have to pay for extra. The key things to focus on are obviously getting to and from the ship, then gratuities, Wi-Fi drinks, excursions and specialty dining.
Then, of course you need to think about things like spa, or laundries, or the casino or whatever. I have two other tips around budgeting is to think about when you book. The best times to book are either when cruises first go on sale, as this is when cruise lines tend to have deals and offers.
And then, within 90 days of the cruise departing. Final balances generally must be paid 90 days before a cruise goes.
The cruise line then knows how much capacity they've got left, and they then work very hard to discount and get those cabins filled because they want to sail full. My next tip around budgeting is always track fares because if your fare goes down, you can go back to the cruise line and ask them to reduce your fare. They won't come to you necessarily and tell you that the fare's gone down. I had an email just today as I was preparing this, from someone who told me they had got $800 of their cruise fare by tracking the fare, following this advice.
They tracked it on sites like Cruise Watch and Cruise Critic, called the cruise line, which was Norwegian Cruise Line, and got $800 off their fare.
I mentioned excursions is one of the big add-on costs. Is there a way to cut back here? Perhaps, but with one big watch out which I need to explain. On my first cruise, as I had lots of travel experience, I thought we would do our own thing in ports rather than book cruise line excursions. In our first port, which was Barcelona, we headed off and started exploring but found it all a bit stressful as we kept worrying about going too far from the port, getting lost and not getting back to the ship in time for departure and never quite relaxed and enjoyed the port.
When it comes to excursions, for a first-time cruise I would recommend that you stick with, as much as possible, the cruise line excursions, certainly for that first cruise. We did that for all the rest of the ports and relaxed and really enjoyed the rest of the ports. The reason is partly because I realize that the cruise lines have a range of well-proven cruises for each port.
But more importantly, they guarantee that the ship will wait past scheduled departure time if any of their excursions are delayed for any reason. People that have gone on independent tours or perhaps self-explored as we had, they will not wait for if late.
The ship will leave without you. So as a first-time cruiser, going on cruise line excursions is a great idea because it just gives you that sense of reassurance, until you understand how things work. So, for your next cruise, you perhaps want to be a little bit more adventurous. If you really don't want to go on cruise line excursions, I recommend using one of their explore on your own transfers into the closest town which counts as an excursion but costs very little or use the hop-on hop-off bus is one calls into the port.
Many cruise ports have these, and they synchronize the timetables with the ship schedule.
One big watch-out for a first-time cruiser is we are agreeing lots of things that we may not realize the significance of when you book a cruise. I realized that when on our first cruise, one of the ports of call (Monte Carlo) was cancelled on the day as the weather made docking or even mooring outside and tendering off the ship to land impossible. We just had a sea day and there was no compensation, or any other gesture made. The cruise contract that you agree to simply by booking a cruise has many conditions. For example, as I learnt we must accept and agree that the line can change the itinerary or ports of call basically at will, and you must accept it and without the right to compensation, or often ability to cancel even if that port that made you book the trip has been dropped.
They usually have strict cancellation terms, which even won't allow you to change the name of the person you're cruising with. You need to take time to understand what you are agreeing to and look at the terms and conditions. That has become more important, as we saw as cruising resumed after the shutdown, that we want more flexibility to change or cancel if the protocols on board are changed and not to our liking. Sudden and constant changes to vaccination, testing, or masks or whatever. And as we move forward, how that evolves, nobody really knows.